TOP 10 THINGS TO DO IN RUTLAND
December 4. 2020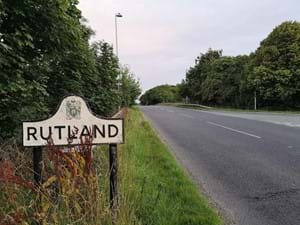 1. RUTLAND WATER & AQUA PARK .Rutland Water is the sporting center piece for sporting activities in Rutland. Set in 3100 acres of rolling English countryside, Rutland Water has a 25 mile (40km) perimeter track, perfect for Cycling, walking and running. There is a huge range of activities waiting for you regardless of age or ability. https://anglianwaterparks.co.uk/rutland-water
As one of the Midlands most popular outdoor destinations Aqua Park Rutland has been designed to complement and add further excitement to Rutland Water's existing outdoor activities. https://www.aquaparkgroup.co.uk/rutland/
2. CLIPSHAM YEW TREE AVENUE The fascinating yet tranquil Yew Avenue at Clipsham is over 200 years old and consists of over 150 clipped Yew Trees. This amazing collection of topiary has provided a delightful place to stroll since the late 19th century with tree shapes to depict birds and animals. Once better known as the carriage drive to Clipsham Hall, the Avenue which is free to visiting wanderers, is now a pleasant place to sit and perhaps enjoy a picnic in summer.
3. RUTLAND FALCONARY & OWL CENTRE -10 mins car journey from Moo Cow Cottage.  Visit the Centre and see the wonderful collection of Birds of Prey, some of the birds are happy to be held. Address:  Burley Bushes, Exton Lane, Exton, LE15 7TA  www.rutland-falconary.com Tel:07778152814 
4. BARNSDALE GARDENS The most famous garden attraction in Rutland. Situated near Exton, it attracts thousands of visitors every year who come to enjoy the magnificent gardens that were built by Britain's best loved gardener, the late Geoff Hamilton, star of the BBC's Gardener's World. Barnsdale Gardens have 38 individual gardens that are waiting for you to explore and admire the abundance of natural beauty all built on peat free, organic principles. Following an accessible walk around the gardens, spend some time in the nursery where many of the specimens on display in the gardens can be purchased and taken home with you. There is also a lovely tearoom so  you don't have to look far for refreshments and there's a superbly stocked gift shop featuring a range of exclusive Barnsdale souvenirs, both gardening and nature themed gifts. https://www.barnsdalegardens.co.uk/
5. OAKHAM CASTLE Step back in Time with a visit to Oakham Castle, by the Market Place, Britain's finest example of Norman architecture. Oakham Castle is open to the public 6 days a week (closed Tuesdays) with a varied program of activities for visitors. On High Street you cannot miss the impressive Victoria Hall, Grade 2 listed building rich in history and now serving the community as a multi-functional venue - art exhibitions & antique fairs.
6. GOLF IN RUTLAND. Rutland is blessed with some fantastic golf courses, with many enjoying the best views of the countryside. All our golf clubs are popular with our locals and offer fabulous social opportunities and dining facilities at their club houses for their visitors too.
7. BUGTOPIA ZOO is a family owned small zoo with an emphasis on interactivity and affordable fun for the entire family. Here at Bugtopia The Zoo it all starts with the idea of bringing an interactive experience to people whilst educating them of the importance of preserving the wonderful biodiversity (the variety of plant and animal life in the world) that exists in our world today 'Conservation through Education'. https://www.bugtopia.co.uk/
8. HORSE RIDING If you enjoy seeing the countryside from the saddle, then "Stretton Riding School" can offer some serious hacking - just a 5 minute drive. Address: Manor Farm Bungalow, Manor Road, Stretton, Oakham. LE15 7QZ Tel: 01780410323
9. OAKHAM - the county town of Rutland Oakham is a pretty, traditional English market town, bustling with activity. Packed with heritage, there's plenty to see in Oakham which makes it ideal for a day trip or short break in the UK. Wander through the Market Place on a Wednesday or Saturday to find many stalls with the finest produce from meats and pies, local cheeses, artisan bread and fresh free-range eggs. Oakham has an exciting and mouthwatering choice of menus to sample at an abundant mix of Cafes, bars, restaurants and pubs to suit every budget. With so many attractions to explore and plenty of stylish shops and boutiques to visit, you'll be grateful of the opportunity to sample our locally brewed ale and gather family and friends to experience delicious meals in a warm and friendly atmosphere.
10. RUTLAND COUNTY MUSEUM - is a great place to start your visit - get to know the fascinating history of the county and explore the exciting archaeology discoveries. The museum is a treasure trove of glittering exhibitions including displays covering rural life and county trades. https://rutlandcountymuseum.org.uk/